Think hockey's getting more popular?
Look at what's the 1st "Featured" on Yahoo!'s main page!: http://sports.yahoo.com/nhl/blog/nhl_experts/post/...
Hey, Versus' hockey highlights are advertised on Comcast's On Demand now. And I see that (damn) Amp Energy drink commercial with Ryan Miller on like 20 channels. (Well, maybe not 20. I don't watch that many. I don't even watch that much TV... But it's out there!)
Wooo, go hockey!
2nd QUESTION: Do you agree that hit is the best all-time? If not, what hit was better? (Remember, I love YouTube links. Lol.)
Update:
JENNI - Yeah, I was wondering how they picked from all his hits?? Lol. The one on Lindros was pretty brutal as well.
Update 2:
JENNI - Agreed.
So... when can you start? :P
Update 3:
TUNA - Holy cow, I never saw that last one. That was a total BS call...
(Was that Pierre Maguire I heard commentating?? How could you do this to me??)
Update 4:
TUNA - By the way, I hopped on the Phaneuf wagon last season. This season, when the Flames played the Pens... I realized I would NOT want to see a Pens/Flames SC final. Sidney Crosby tried this puck-protection move on Phaneuf that he's usually successful with (Sid's pretty strong down low) and Phaneuf knocked him right on his butt instantly. There's not too many players that contain Sid that well.
Phaneuf gets called a punk or whatever, but he just tries not to take penalties after someone gets mad because he makes a big hit. (Hmm, I do think I'd like to see him drop the gloves more during the regular season though.) People already hate him---that's how good he is and how good his hits are.
Update 5:
TUNA - Oh, I didn't mean that I wanted Phaneuf to drop the gloves to prove anything or so he's accountable... I just want to see him destroy someone for my personal entertainment. Haha.
Update 6:
TUNA - There didn't used to be. I consider Forsberg one of the MASTERS of cheapshots over the refs. Lol, seriously. I saw him do it a few times last season. Even in the playoffs, when he played for Nashville, he got a good punch in on a guy over a ref. (Psssht, Steve Downie did that to Jason Blake this season and a lot of people almost had heart attacks.)
Sidney Crosby's welcome to the 2006-07 season was Forsberg sticking him in the face over some refs: http://youtube.com/watch?v=Ldg5NqpXAmA
(I love how he's talking to Sid and starts to ease up his grip... than makes one final attempt to kill him. Ahaha.)
If you're hatin' Forsberg a lot particularly one day, watch this: http://youtube.com/watch?v=IVZzL_57C48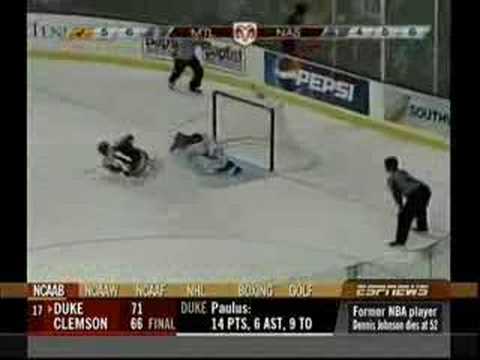 Woooooo!
Update 7:
ZAPCITY - YouTube IS something else. I do remember the Kapanen one, especially all the falling.
Anyway, you said dirtiest hit which is ironic because I was going to bring up Kasparaitis. I'm sure a handful of his would be good nominations. (Though personally, Ulf Samuelsson on Neely is THE dirtiest I've ever seen.) I couldn't help but think of this one from Turin, which I think is actually clean: http://youtube.com/watch?v=LjW7qK2BiBo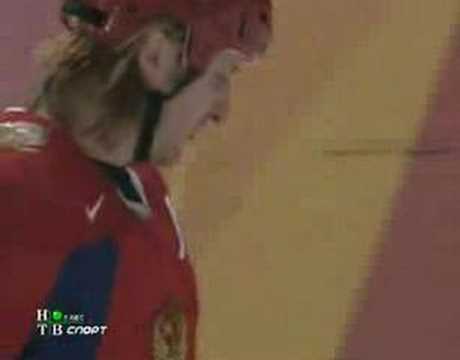 &feature=related
Hip-on-knee. I remember seeing all kinds of pictures of Gagne flying through the air.
But oh man Zap, there's too good of a chance that the Pens will play the Rangers in Round 2. I'm wary (especially of Lundqvist and NY's D) and yet really excited. LITY asked a question about whether or not Avery could contain Crosby & Malkin and all the answers got me pumped up for that showdown. If that's the matchup, I'll have to obnoxiously send you Sidney Crosby highlight videos before the series starts. :P
This is one of my favorite hits. I was at the game and will never forget the look on Iafrate's face after he hit the ice. Al has since become a friend and says it's definitely top 5 amongst the things he gets asked about when he first meets people.

http://www.youtube.com/watch?v=6cclCfCsNVc

Here's a pretty solid pop. Ranger on the receiving end to make you feel good, E. Not sure what the Mr. T clip in there is supposed to do, though.

http://www.youtube.com/watch?v=Mc9P1WBSY7Y

You got me thinking about hits and I couldn't believe I actually found this one. The hit has it all. It's literally a helmet-popper. Modano's out before he hits the ice and there's a blood streak on the ice before he stops sliding.

The end of the clip is brutal. Again, I was watching this game and couldn't believe what happened. If it wasn't so ridiculous, it would be comical.

http://www.youtube.com/watch?v=DmfMQ8wx5k0

That dovetails nicely into your question. For all those who think the NHL is bumbling about, that's a little proof that it's not a particularly new phenomenon.

As for popularity, here's fair warning on what I fear the theme of these playoffs will be about; officiating. I am not one to entertain or engage in discussions about how one-sided the officiating is on any given night. With that said, the inconsistencies and blown/brutal calls in the 1st week of the playoffs are disconcerting.

When you couple that with the Avery fiasco, I'd have to think "ro-ro, Shaggy".

- yomamaween

EDIT: Dude (yeah, I said 'dude'), youtube is something else. I think of a hit, punch it in and there it is. The internets are great and Mike Keane will discover that after he lands from this hit, sometime in late '09.

http://youtube.com/watch?v=bkBBvaLn-QY

remember this one?

http://www.youtube.com/watch?v=xcAlHcgSc0c

&feature=related

dirtiest hit...couldn't find Mats Naslund on Greg Brown in Albertville (or was it Lillehammer?), so this will have to do.

http://www.youtube.com/watch?v=DsGIi0KU9Uk

EDIT II: Sorry, E, couldn't respond until my boys had actually closed out the Devils and the pouty Brodeur. I was a little surprised he didn't shake Avery's hand but more surprised he didn't dive with so many Rangers around him. LOL

As for the Pens, gotta respect their firepower. The Rangers weren't terribly disciplined or impressive in their own end for the better part of the series. Hank saved their bacon over and over and if a puck wasn't going off an elbow or a skate, it wasn't going in the net. They definitely need to work on clearing the zone, though, and their play with the lead needs to be more inspired.

Crosby and Malkin may not be phased by Avery, but what about Fleury. That's the kitchen I'd be looking to set up shop in if I'm Avery. The other subplot are the players going against their old teams. Jagr, Straka and, particularly Roszival, would have to be pumped to play the Pens. On the flipside, Dupuis must be jonesin' to thank the Rangers for not letting him finish his cup of coffee before getting punted to Atlanta.

So, bring on the highlights! You can start with the puck-bouncing in the Winter Classic. That was SOOOOOO imaginative and I've only seen it 760 times. haha.

As long as this doesn't happen again. I'd love to see another guy getting vilified as a goon like Graves was. Frickin' Lemieux...broken hand? Whatever.

http://www.youtube.com/watch?v=JqvxQcnZy2Y

Doug Weight citing at the 3:11 mark. hehe

By the way, have the Rangers ever beaten Pittsburgh in the playoffs? '89 was a Pitt sweep, '92 was Pens in 6 and '96 was Pitt in 5. By my count, the Rangers haven't won 4 games vs. Pittsburgh in the playoffs, much less a series!!

Hmmmm, let's go Capitals??

Hi

It is wonderful that this grand sport is getting so more coverage The old saying is what again, no press is bad press, and this is a form of press.

That his was great, same goes for so many others that already where mentioned. Sadly I never saw anyone before him, it really makes me wonder. I am willing to be someone from the 50 or 60's could throw their body around. I am not going to say best for that reason, not enough knowledge. My favorite hit will always be the Konstantinov hit on Claude. A classic example of how to hip check, truly a dieing art in today's NHL.

I think Phaneuf is the next big hitter. He already does, but waiting for him to get a bandwagon.

Thank You.

ps I agree I want a new Probert, bring back the sheriffs, get rid of the punks, hmm sounds familiar.

Source(s):

http://www.youtube.com/watch?v=cO1uhorF5LA http://www.youtube.com/watch?v=3qRtGKnKbXU&feature... http://www.youtube.com/watch?v=wWOBzAPK2pM&feature... http://www.youtube.com/watch?v=QpvfOPxs890&feature...

Now this one is a bs call. I wonder if they guy did swallow his mouth guard or swallow a piece of his tongue. That is now one of my favorites, text book hit. Remember boys and girls never look down, bad things happen. Kinda like in my high school football days, you never leave your feet, some how you always landed on your head. Erica people hated Konstantinov and Stevens for the same reasons, That is the sign of greatness I think. The ablity to walk away, look how often it gets his team a power play. I always found some where he did drop the gloves. In my opinion though thats not smart as it takes Calgary's best D man off the ice, unless he drops it with a Crosby then its not an evan trade. Oh then I am all for that, personal amuzement always wins out. I am still pissed at the refs throwing Forsberg aside the other night when he was getting tangled up. Made me wonder if their isnt a bit of a double standard. Not team wise but just for Forsberg.

Yeah hockey is definitly growing especially at places that have great hockey teams now like San Jose and Anaheim

but it will never truly grow until it gets more coverage on SportsCenter in the morning than just a couple minutes. But since ESPN is run by a bunch of basketball junkies...basketball will always overshadow hockey on ESPN

Mike Richards hit on Petrovicky...

http://youtube.com/watch?v=Dd3gmPkVtk8

zapcity...i remember that hit of Tucker on Kapanen but Kapanen is tough as nails...if he sat there and waited for help...the Flyers would not have scored later on that play

Maybe Hockey is getting more popular were everyone else lives, but few people care about it here in Cleveland. I wish Cleveland had a team!

I think the Umberger hit in the 2006 playoffs was the best hit.

http://youtube.com/watch?v=qMDKXzfbrYE

&feature=related

Source(s): Red Wings and Blue Jackets fan. Cleveland Resident.

What do you think of the answers? You can sign in to give your opinion on the answer.

I know there will be people who grit their teeth when I say this, but it is getting more popular and I suspect that has a lot to do with the expansions and relocations into non-traditional markets, and giving those markets time to grow.

It's certainly getting more popular here in NC... I see people around wearing hurricanes gear even after we barley miss the playoffs, so on and so forth.

Great list of hits zap...

Actually, what came to mind for me was this one: http://www.youtube.com/watch?v=cO1uhorF5LA

the definition of an amazing hip check.

The game is becoming more and more popular with the new rules, the great rising young stars, and especially with playoffs. Fighting also helps.

Honestly, I do not know. I live in such a HOCKEY BUBBLE that I think the whole world is spinning around on a hockey stick axis.

From late September until late June, I seriously believe that pucks are eaten for breakfast and that spitting water out of my mouth in the middle of a conversation is perfectly normal.

The simple solution is to get more hockey games broadcasted on a network that is in most homes. In Canada the cbc has been broadcasting hockey night in Canada every Saturday night for 50 years with great success I don't see why NBC can't do the same thing. Other than that more fan interaction with teams/players, cheaper ticket prices and more contests/promotions

Da, Scott Stevens= monster on ice.

The hit he put on Paul Kariya was darn good too.

No kiddin' I wouldn't want to have to choose.

Many guys are relieved he's retired.

We need another fighter like Probert.

lol riiiight I'd like to smack Avery but I'd prolly get sidetracked by King Henrik and go flirt. I'd get fired.

nice, hockey fans!!! Well, I hope it becomes a s popular as it was back before the NHL Lockout but it is the perfect time to watch hockey now. New rules, New Jersey's, Better players, and the play offs!!! Flyers 2008
Still have questions? Get answers by asking now.